Contemporary Dark Fiction, Advanced Creative Writing Workshop, Novel in a Year, Short Story Mechanics, Keep it Brief, Day of Reckoning
Richard Thomas is the award-winning author of seven books: three novels—Disintegration and Breaker (Penguin Random House Alibi), as well as Transubstantiate (Otherworld Publications); three short story collections—Staring into the Abyss (Kraken Press), Herniated Roots (Snubnose Press), and Tribulations (Cemetery Dance); and one novella in The Soul Standard (Dzanc Books).
With over 150 stories published, his credits include The Best Horror of the Year (Volume Eleven), Cemetery Dance (twice), Behold!: Oddities, Curiosities and Undefinable Wonders (Bram Stoker winner), PANK, storySouth, Gargoyle, Weird Fiction Review, Midwestern Gothic, Gutted: Beautiful Horror Stories, Qualia Nous, Chiral Mad (numbers 2-4), and Shivers VI (with Stephen King and Peter Straub).
He has won contests at ChiZine and One Buck Horror, has received five Pushcart Prize nominations, and has been long-listed for Best Horror of the Year six times. He was also the editor of four anthologies: The New Black and Exigencies (Dark House Press), The Lineup: 20 Provocative Women Writers (Black Lawrence Press) and Burnt Tongues (Medallion Press) with Chuck Palahniuk. He has been nominated for the Bram Stoker, Shirley Jackson, and Thriller awards.
In his spare time he is a columnist at Lit Reactor. He was the Editor-in-Chief at Dark House Press and Gamut Magazine. His agent is Paula Munier at Talcott Notch. For more information visit him online today at http://www.whatdoesnotkillme.com.
Brian Evenson is the author of a dozen books of fiction, most recently the story collection A Song for the Unraveling of the World (Coffee House Press 2019). He has also recently published A Collapse of Horses (Coffee House Press 2016).
His books The Warren (Tor.com 2016), Windeye (Coffee House Press 2012), and Immobility (Tor 2012) were all finalists for a Shirley Jackson Award. His novel Last Days won the American Library Association's award for Best Horror Novel of 2009. His novel The Open Curtain (Coffee House Press) was a finalist for an Edgar Award and an International Horror Guild Award. Other books include The Wavering Knife (which won the IHG Award for best story collection), Dark Property, and Altmann's Tongue.
He has translated work by Christian Gailly, Jean Frémon, Claro, Jacques Jouet, Eric Chevillard, Antoine Volodine, Manuela Draeger, and David B. He is the recipient of three O. Henry Prizes as well as an NEA fellowship. His work has been translated into Czech, French, Italian, Greek, Hungarian, Japanese, Persian, Russia, Spanish, Slovenian, and Turkish. He lives in Los Angeles and teaches in the Critical Studies Program at CalArts.
Angela Slatter is the author of the Verity Fassbinder supernatural crime series (Vigil, Corpselight, and Restoration) as well as nine short story collections, including The Bitterwood Bible and Other Recountings and A Feast of Sorrows: Stories. She has an MA and a PhD in Creative Writing. She's won a World Fantasy Award, a British Fantasy Award, a Ditmar Award, an Australian Shadows Award, and six Aurealis Awards; her debut novel was nominated for the Dublin Literary Award. Her work has been translated into French, Chinese, Spanish, Japanese, Russian, and Bulgarian. Her novelette "Finnegan's Field" has been optioned for film.
Hugo award winner Sarah Gailey is an internationally published writer of fiction and nonfiction. Their nonfiction has been published by Mashable and the Boston Globe, and they are a regular contributor for Tor.com and Barnes & Noble. Their most recent fiction credits include Fireside Fiction, Tor.com, and The Atlantic. Their debut novella, River of Teeth, was published in 2017 via Tor.com and was a 2018 Hugo and Nebula award finalist. Their adult novel debut, Magic For Liars, was published by Tor Books in June 2019. Their Young Adult novel debut, When We Were Magic, will be published by Simon Pulse in Spring 2020.
Day of Reckoning, Creative Non-Fiction
Jacklyn Dre Marceau is the author of Stripped: A Memoir and the forthcoming novel Only Us, and was the winner of the 2012 Silverscreen Award from the Missouri Film Council for Best Screenplay. She teaches courses in Creative Writing, Literature, and Composition at Stephens College and Moberly Area Community College. She lives in Columbia, Missouri.
Eden Royce's short stories have appeared in various print and online publications including, The Year's Best Dark Fantasy and Horror (2018 and 2019), Sycorax's Daughters (Bram Stoker award finalist), Vastarien: a Literary Journal, Apex Magazine, Strange Horizons, Fiyah Literary Magazine of Black Speculative Fiction, PodCastle, PseudoPod, Fireside Fiction, and Abyss & Apex. She is also a recipient of the Speculative Literature Foundation's Diverse Worlds grant. Her debut middle grade Own Voices historical Southern Gothic novel, Tying the Devil's Shoestrings, is forthcoming from Walden Pond Press/HarperCollins. More at her website www.edenroyce.com.
A.C. Wise's fiction has appeared in publications such as Uncanny, Tor.com, Clarkesworld, and the Best Horror of the Year, Volume 10, among other places. She has two short fiction collections published with Lethe Press, and a novella, Catfish Lullaby, published with Broken Eye Books. Her work has been a finalist for the Lambda Literary Award, and won the Sunburst Award for Excellence in Canadian Literature of the Fantastic. In addition to her fiction, she also contributes a review column to the Book Smugglers. Find her online at www.acwise.net.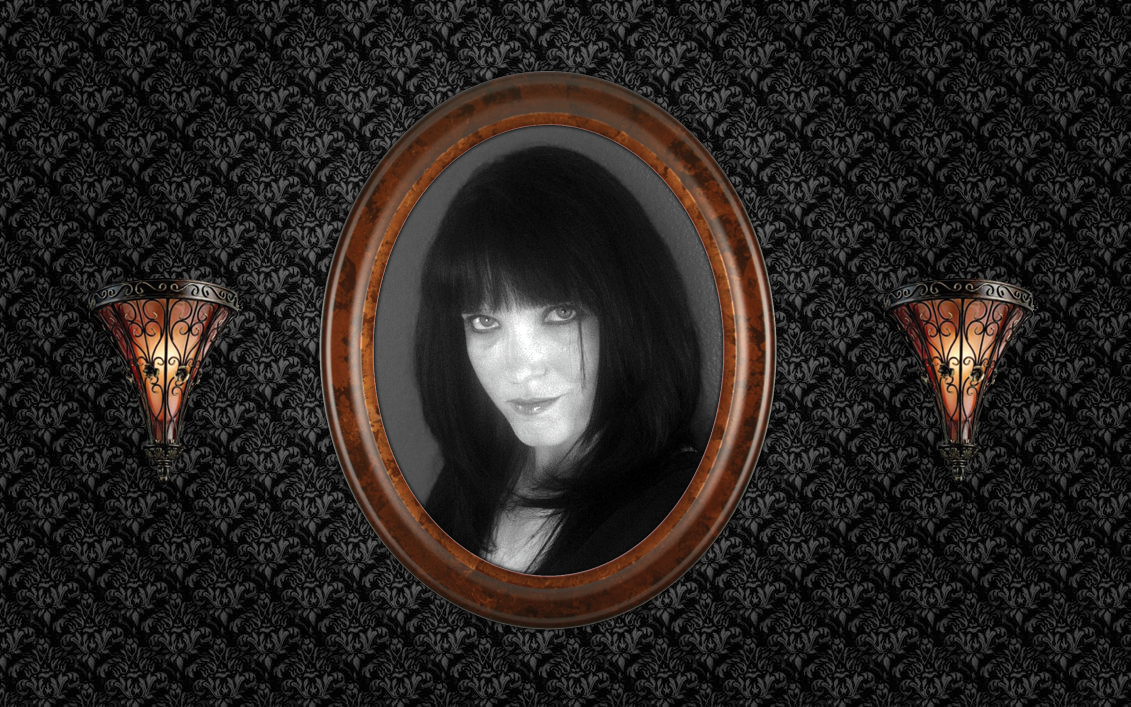 Day of Reckoning, Shine On You Crazy Diamond
Mercedes M. Yardley is a whimsical dark fantasist who wears stilettos, red lipstick, and poisonous flowers in her hair. She is the author of many diverse works, including Beautiful Sorrows, the Stabby Award-winning Apocalyptic Montessa and Nuclear Lulu: A Tale of Atomic Love, Pretty Little Dead Girls: A Novel of Murder and Whimsy, Detritus in Love, and the BONE ANGEL trilogy. She recently won the prestigious Bram Stoker Award for her story Little Dead Red. Mercedes lives and creates in Las Vegas with her family and menagerie of battle-scarred, rescued animal familiars. Mercedes is a member of the Horror Writers Association and co-chair of the Las Vegas HWA Chapter.
Livia Llewellyn is a writer of dark fantasy, horror, and erotica, whose short fiction has appeared in over forty anthologies and magazines and has been reprinted in multiple best-of anthologies, including Ellen Datlow's The Best Horror of the Year series, Years Best Weird Fiction, and The Mammoth Book of Best Erotica. Her first collection, Engines of Desire: Tales of Love & Other Horrors (2011, Lethe Press), received two Shirley Jackson Award nominations, for Best Collection, and for Best Novelette (for "Omphalos"). Her story "Furnace" received a 2013 Shirley Jackson Award nomination for Best Short Story. Her second collection, Furnace (2016, Word Horde Press), received a Shirley Jackson Award nomination for Best Collection and won the 2016 This is Horror Award for Best Collection. You can find her online at liviallewellyn.com, and on Instagram and Twitter.
Day of Reckoning, On Writing, 3-D Characterization
Called "a writer of spectacularly unflinching gifts" by Peter Straub, Brian Hodge is one of those people who always has to be making something. So far, he's made thirteen novels, over 130 shorter works, five full-length collections, and one soundtrack album. His most recent works include the novel The Immaculate Void and the collection Skidding Into Oblivion, companion volumes of cosmic horror. His Lovecraftian novella "The Same Deep Waters As You" is in the early stages of development as a TV series by a London-based production company. More of everything is in the works. He lives in Colorado, where he also trains in Krav Maga, endeavors to sweat every day like he's being chased by the police, and scowls during cold showers. Connect through his web site (www.brianhodge.net) or other social media.
Day of Reckoning, The Art of Anxiety, Critique Groups, Researching a Novel
Sarah Read is a dark fiction writer in the frozen north of Wisconsin. Her short stories can be found in Gamut, Black Static, and other places, and in various anthologies including Exigencies, Suspended in Dusk, BEHOLD! Oddities Curiosities and Undefinable Wonders, and The Best Horror of the Year vol 10. Her novel The Bone Weaver's Orchard is now out from Trepidatio Publishing, and her debut collection Out of Water will follow in late 2019. She is the Editor-in-Chief of Pantheon Magazine and of their associated anthologies, including Gorgon: Stories of Emergence. She is an active member of the Horror Writers Association. When she's not staring into the abyss, she knits.
Day of Reckoning, Fairy Tale and Myth
Carina Bissett is a writer, poet, and educator working primarily in the fields of dark fiction and interstitial art. Her short fiction and poetry has been published in multiple journals and anthologies including Hath No Fury, Gorgon: Stories of Emergence, Mythic Delirium, NonBinary Review, and the HWA Poetry Showcase Vol. V. She teaches online workshops at The Storied Imaginarium and she is a graduate of the Creative Writing MFA program at Stonecoast. Her work has been nominated for several awards including the Pushcart Prize and the Sundress Publications Best of the Net. Link to her work can be found athttp://carinabissett.com.
Priya Sharma's fiction has appeared in venues such as Interzone, Black Static, Nightmare, The Dark, and Tor. She's been included in many Best of the Year anthologies by editors such as Ellen Datlow, Paula Guran, and Jonathan Strahan. She's been on many Locus' Recommended Reading Lists. She is a Grand Judge for the Aeon Award, an annual writing competition run by Irish magazine of the fantastic, Albedo One, Ireland's magazine of the fantastic. Her short story "Fabulous Beasts" was a Shirley Jackson Award finalist and won a British Fantasy Award. "All the Fabulous Beasts," a collection of some of her work available from Undertow Publications, was a Locus Award Finalist, and won a Shirley Jackson Award and British Fantasy Award. Ormshadow is her first novella and is available from Tor.
R. B. Wood is a recent MFA graduate of Emerson College and a writer of speculative and dark fiction. Mr. Wood recently has been published online via SickLit Magazine and HorrorAddicts.net and appeared in the award-winning anthology Offbeat: Nine Spins on Song from Wicked ink Books. Along with his writing passion, R. B. is the host of The Word Count Podcast—a show of original flash fiction. R. B. currently lives in Boston with his partner Tina, a multitude of cats, and various other critters that visit from time to time.
Day or Reckoning, Riveting Descriptions
Lucy A. Snyder is the Shirley Jackson Award-nominated and five-time Bram Stoker Award-winning author of over 100 published short stories. Her most recent books are the collection Garden of Eldritch Delights and the forthcoming novel The Girl With the Star-Stained Soul. She also wrote the novels Spellbent, Shotgun Sorceress, and Switchblade Goddess, the nonfiction book Shooting Yourself in the Head for Fun and Profit: A Writer's Survival Guide, and the collections While the Black Stars Burn, Soft Apocalypses, Orchid Carousals, Sparks and Shadows, Chimeric Machines, and Installing Linux on a Dead Badger. Her writing has been translated into French, Russian, Italian, Spanish, Czech, and Japanese editions and has appeared in publications such as Asimov's Science Fiction, Apex Magazine, Nightmare Magazine, Pseudopod, Strange Horizons, and Best Horror of the Year. She lives in Columbus, Ohio and is faculty in Seton Hill University's MFA program in Writing Popular Fiction. You can learn more about her at www.lucysnyder.com.
Kelly Robson is an award-winning short fiction writer whose work appears in major speculative fiction markets. Many of her stories have been selected for year's best anthologies, and have been translated internationally. In 2018, her time travel adventure Gods, Monsters and the Lucky Peach debuted to high critical praise and was a finalist for the Hugo, Nebula, Theodore Sturgeon, Locus, and Aurora awards.
In 2018, her story "A Human Stain" won the Nebula Award for Best Novelette, and her novelette "We Who Live in the Heart" was a finalist for the 2018 Theodore Sturgeon Award. In 2017, she was a finalist for the John W. Campbell Award for Best New Writer. In 2016, her novella "Waters of Versailles" won the Prix Aurora Award and was also a finalist for the Nebula Award and World Fantasy Awards. Her short story "The Three Resurrections of Jessica Churchill" was a finalist for the 2015 Theodore Sturgeon Award, and her short story "Two-Year Man" was a finalist for the 2015 Sunburst Award.
Kelly grew up in the foothills of the Canadian Rockies, where she competed in rodeos and gymkhanas, and was crowned princess of the Hinton Big Horn Rodeo. From 2008 to 2012, she wrote the wine and spirits column for Chatelaine, Canada's largest women's magazine. After 22 years in Vancouver, she and her wife, fellow SF writer A.M. Dellamonica, now make their home in downtown Toronto.
John Langan is the author of two novels and three collections of stories. His novel, The Fisherman, won the Bram Stoker and This Is Horror Awards. With Paul Tremblay, he co-edited Creature: Thirty Years of Monsters. He's one of the founders of the Shirley Jackson Award, for which he served as a juror during its first three years. His reviews of horror and dark fantasy have appeared in Locus magazine. He lives in New York's Mid-Hudson Valley with his wife and younger son. His fourth collection, Children of the Fang and Other Genealogies, is forthcoming from Word Horde in 2020.
Day of Reckoning, The Heart of Story: Developing Character, Revising: Re-visioning for Impact and Clarity
After obtaining a master's degree in clinical psychology, S. L. Coney ran away from academia to become a writer. This ensures that even though Coney's imaginary friends do awful, terrible, no good things, they can get the therapy they need. Originally from South Carolina, Coney lives and writes in St. Louis. Their work has appeared in St. Louis Noir, Gamut, and Best American Mystery Stories 2017. Learn more at www.slconey.com
Lindsay Hunter is the author of the story collections Don't Kiss Me and Daddy's and the novels Ugly Girls and Eat Only When You're Hungry, a finalist for the 2017 Chicago Review of Books Fiction Award. Originally from Florida, she now lives in Chicago with her husband, sons, and dogs.
Day of Reckoning, Extreme Horror
Karen Runge is an author and visual artist based in South Africa. Her first solo collection, Seven Sins: Stories, was published by Concord Free Press in 2016, and her first novel, Seeing Double, made its debut in 2017, from Grey Matter Press. Her second novel, Doll Crimes, is forthcoming with Crystal Lake Publishing. Never shy of darker themes in horror fiction, she has been dubbed "The Queen of Extreme" and the "Princess of Pain" by various bloggers and book reviewers. Jack Ketchum once said in response to one of her stories, "Karen, you scare me."
Day of Reckoning, Social Media
Gabino Iglesias is a writer, professor, editor, and book reviewer living in Austin, TX. He is the author of Coyote Songs and Zero Saints. His work has been translated into three languages, optioned for film, and nominated to the Wonderland Book Award, the Bram Stoker Award, and the Locus Award. His nonfiction and literary criticism have appeared in The New York Times, the Los Angeles Times, NPR, Electric Literature, Vol. 1 Brooklyn, the Los Angeles Review of Books, The Collagist, and other print and online venues. He was a juror for the 2018 Shirley Jackson Awards and the Splatterpunk Awards. He is a columnist for LitReactor and the book review editor for PANK Magazine. He teaches creative writing at SNHU's online MFA program.
Behind the Badge: Creating Realistic Law Enforcement Characters, Police Procedure and Forensic Science: Writing Believable Investigation Scenes
Alicia Hilton is a writer, law professor, former litigator, and former FBI Special Agent. As an FBI Special Agent, she was a member of a foreign counterintelligence squad and also worked undercover in two long-term criminal cases. Alicia received her Juris Doctor and Master's degrees from the University of Chicago, and she received her Bachelor's degree in Sociology from the University of California, Berkeley. She has been an invited guest speaker at more than sixty law schools, including Harvard, the University of Chicago, the University of Pennsylvania, Duke University, Northwestern University, Vanderbilt University, and the University of Southern California. She has taught writing workshops at MWA and RWA conferences. She currently is an adjunct professor at the UIC John Marshall Law School.
When she is not teaching, she works a writer. Her recent fiction has appeared or is forthcoming in Akashic Books, Bronzeville Books, ChiZine Publications, Vastarien, Year's Best Hardcore Horror 4, and elsewhere. Her law and criminal justice articles have been published in the United States and Australia.
Banner Image by Pixabay by Pexels
Below image by Renato Danyi on Pexels